Mat Pressure Measurement
Tekscan offer a wide range of Pressure Mats to suit all applications and budgets. Whether you are a Podiatrist looking for a simple solution to help better inform patients with visual pressure profiles and intuitive reports, or a researcher requiring a wide mat for larger base of support and extended analysis functions.
Our Mats and all extremely portable, supplied with should strap carry case, hard wearing and wipe clean for infection control purposes.
All Mats are supplied with FootMat software with many optional add-ons including:


Video synchronisation

Extended analysis of foot timing (TAM)

Research analysis features

Extended analysis of Postural Sway and Balance (SAM)

MobileMat
- A robust Mat with stylish top cover and integrated handle for portability. This single foot strike mat is ideal for both clinicians and researchers requiring no external power (USB powered) and an all in one design, just plug in the cable and start collecting data.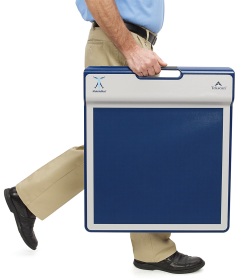 HR-Mat
SB-Mat
Matscan
foot pressure mats are used primarily for the objective assessment of the bare foot for either static or dynamic measurements.
▪ SWAY Analysis Module (SAM) option for measurement of postural sway
▪ Available in 2 foundation hardware options to suit your requirements
For further details on all mat systems and a full system specification
visit the Tekscan website

Durable padded shoulder bag providing exceptional protection to the Tekscan MobileMat or Matscan sensor. Bag constructed of a thick canvas with internal padding and accessory pouches to hold consumables, electronics and accessories. Ideal for stor...





£185.00